A vibrant past, a dynamic present, a boundless future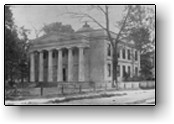 GHSU was chartered in 1828 as an academy offering a single course of lectures. Currently, the university offers mor e than 60 academic degree programs in allied health sciences, dental medicine, graduate studies, medicine, and nursing at the certificate, baccalaureate, masters, doctoral and first professional levels. Additionally, GHSU offers residency training in medical and dental specialty areas.
The Georgia Health Sciences University traces its roots to 1822, when Dr. Milton Antony led a group of Augusta physicians to establish the Medical Society of Augusta. Dr. Antony further advanced this initiative to upgrade the training of physicians when he spearheaded the State Board of Medical Examiners to regulate medical practice.
In 1826, Dr. Antony began teaching apprentices. He and Dr. Joseph Adams Eve received a state charter in December 1828 to establish a Medical Academy of Georgia. The founding faculty – Drs. Antony, Ignatius P. Garvin and Lewis D. Ford, who was named dean – opened the academy in 1829. Its first seven students enrolled in a one-year course of lectures and clinical training, leading to the bachelor of medicine degree. In December 1829, the governor signed a legislative act altering the charter of 1828 by expanding the curriculum to two years, culminating in a doctor of medicine degree, and changing the name to the Medical Institute of Georgia.
The school's name was changed to the Medical College of Georgia in 1833.
The school's founding faculty began a campaign in 1834 leading to conventions urging medical schools nationwide to adopt uniform entrance requirements and longer sessions. These meetings resulted in the formation of the American Medical Society, which became the American Medical Association.
But despite its national prominence, the school first and foremost served the state of Georgia. When a yellow fever epidemic raged in Augusta in 1839, GHSU faculty members were on the front line of treatment, often at great personal sacrifice. Founding father Milton Antony made the ultimate sacrifice: treating those with the disease until he himself contracted, and succumbed, to it in September 1839.
But never was GHSU's service put more to the test than during the Civil War. GHSU's original home on Telfair Street was converted into offices and operating suites in 1862 to accommodate thousands of ill and injured soldiers throughout Georgia and beyond. Other makeshift hospitals quickly emerged in Augusta as the number of casualties grew. The city pulled together as never before to face this unprecedented crisis, with GHSU leading the way.
The school reopened in fall 1865, welcoming back to its fold not only students, but faculty members who had interrupted their careers to serve in the military.
In 1873, GHSU became the Medical Department of the University of Georgia, an affiliation strengthened by legislation in 1911. The University System of Georgia was established in 1932, and GHSU's name was changed in 1933 to the University of Georgia School of Medicine.
Changes in location, along with name changes, also characterized GHSU's history. The university's Telfair Street home housed MCG classes from 1835 to 1912. The institution moved to the Newton Building—formerly the Augusta Orphan Asylum on what is now R.A. Dent Boulevard—in January 1913.
It was when GHSU's Dugas Building opened in 1937 that the current campus began taking shape.
But despite the name and location changes, GHSU's mission of better health remained constant. The institution's top priority was educating second-to-none physicians, but the complementary goals of cutting-edge patient care and biomedical research were quickly advancing as well. The primary site for GHSU clinical advances was Augusta's University Hospital. GHSU faculty were also heavily involved in patient care at Augusta's Wilhenford Hospital for Children, the first hospital in the South dedicated to pediatric care, which opened in 1910.
It was in 1950 that the University System of Georgia Board of Regents cleared the path to optimize GHSU's full potential by declaring it an autonomous university. The name at that point reverted to the Medical College of Georgia.
No longer did GHSU have the noble but limited role of producing second-to-none physicians. Now, the institution would assume its rightful and broadened role as Georgia's health sciences university.
The first task of a university, of course, is to appoint a leader. GHSU needed to look no farther than its own back yard. The dean of the University of Georgia School of Medicine, Dr. G. Lombard Kelly, was the natural choice to become the university's first president in 1950.
Dr. Kelly's highest priority was providing GHSU with its own teaching hospital. Biomedical science was embarking on unprecedented advancement, and GHSU intended to be on the cutting edge. He recruited friend and colleague Rufus F. Payne, superintendent of Battey State Tuberculosis Hospital in Rome, Georgia, to oversee the hospital and GHSU's burgeoning clinical enterprise.
GHSU was cheered on by the entire state of Georgia when its very own clinical facility, Eugene Talmadge Memorial Hospital, opened in 1956.
A more pressing concern was ensuring a singular focus on GHSU's progress by every member of the GHSU community. Dr. Kelly was adamant that this focus required a full-time faculty. It was Dr. Kelly who got the ball rolling, but it was when his successor, Dr. Edgar Pund, assumed GHSU's presidency in 1953 that the decision was finalized: a GHSU faculty position would now be a full-time endeavor.
The decision undoubtedly accelerated the pace of the many clinical initiatives already unfolding on campus, including breakthroughs in cervical cancer, nutrition, atherosclerosis and cardiovascular disease.
GHSU research had implications not only for the patients treated at Talmadge, but for people throughout the nation and beyond. Dr. Robert B. Greenblatt's studies in endocrinology, for instance, laid the groundwork for fertility and birth control treatment. Dr. Titus Huisman's research in sickle cell disease led to nationwide newborn screening and innovative new treatments. Dr. Raymond P. Ahlquist received the prestigious Lasker Award for laying the foundation for beta-blocking drugs.
Clearly, the 1950s solidly established GHSU's trifold roles of education, clinical care and research. And the university's broad new role—a true health sciences university—was starting to take shape as GHSU established graduate programs in the biomedical sciences, including one of the premier medical illustration programs in the country and, in 1956, its own nursing college.
In 1958, Dr. Harry O'Rear succeeded Dr. Pund as acting president. He was named to the position full time in 1960, overseeing tremendous progress during his 12-year tenure. GHSU's Greenblatt Library and Student Center were erected during the 1960s. The College of Graduate Studies was created in 1962 to centralize GHSU's rapidly growing biomedical research programs. In 1968, GHSU unveiled its College of Allied Health Sciences to consolidate existing programs in the allied health sciences and to develop new ones in disciplines including radiologic technology, physical therapy and medical illustration. Founding Dean Raymond Bard was highly respected in overseeing such a comprehensive initiative. The college's establishment was followed one year later by the opening of the dental school.
By 1970, GHSU's five colleges were producing second-to-none physicians, nurses, dentists, biomedical researchers and allied health professionals—the entire gamut of a thriving, dynamic health sciences university. When Dr. William H. Moretz succeeded Dr. O'Rear as president in 1972, he oversaw even more progress.
Dr. Moretz oversaw the opening of the hospital's Sydenstricker Wing in 1976, adding 240 beds and doubling the hospital's research potential. Other additions to the campus included the radiation therapy center, the Research and Education Building and the building's Hamilton Wing.
Biomedical research advanced rapidly at GHSU during the 1980s, characterized by ambitious initiatives such as the Research Institute and the Georgia Prevention Institute, both of which opened in 1981. The Georgia Prevention Institute in particular underscored GHSU's commitment to treating, or ideally preventing, the diseases that most impact Georgians, including diabetes and hypertension. Such a commitment—which included reaching out to the state's medically underserved citizens—permeated every aspect of GHSU's mission, including the values the institution imparted to its students.
Dr. Jesse L. Steinfeld, a former U.S. Surgeon General, served as president of GHSU from 1983 to 1987. He developed a master plan that strengthened the academic enterprise and oversaw numerous clinical additions, including magnetic resonance imaging and extracorporeal membrane oxygenation.
He was succeeded by Dr. Francis J. Tedesco, a gastroenterologist who ushered in GHSU's most progressive technological era. GHSU's College of Allied Health Sciences made great strides in distance-learning in the 1990s, enabling non-traditional students to complete or advance their degrees. Likewise, GHSU established worldwide prominence in telemedicine, enabling virtual consultations with GHSU specialists and health care providers in rural and other medically underserved areas. The College of Nursing became one of the first in the nation to open a patient simulation lab—an advancement that now has widespread applications campuswide.
The campus also grew dramatically in the 1990s, with additions including the Children's Medical Center and the Ambulatory Care/Specialized Care Centers.
Dr. Daniel W. Rahn capitalized on the momentum when he succeeded Dr. Tedesco as president in 2001. Campus additions in recent years have included the Health Sciences Building, the Interdisciplinary Research Building, the Wellness Center, the Cancer Center and a new Dental College of Georgia building.
Dr. Rahn also set in motion a statewide expansion plan that today includes the MCG/University of Georgia Partnership in Athens and clinical MCG campuses in Albany, Rome and Savannah. The university's geographic footprint will only continue to grow.
But bricks and mortar are the least of GHSU's recent signs of progress. When Dr. Ricardo Azziz succeeded Dr. Rahn in July 2010, he immediately went to work building GHSU's reputation as a premier health sciences university. The very month he assumed office, he oversaw the historic signing of a new governance structure that optimally aligns GHSU's clinical and academic missions.
And in September, the University System of Georgia Board of Regents voted to change the university's name from the Medical College of Georgia to the Georgia Health Sciences University to reflect its full stature, while retaining the name "MCG" for the university's medical college.
The university's vision is to become a leading academic health center and top-50 research university while transforming the institution and the region into a health care and biomedical research destination.
Moving forward, the leadership is fully committed to celebrating the university's past while embracing its future.
---
News & Events
Featured News Story Headline
---