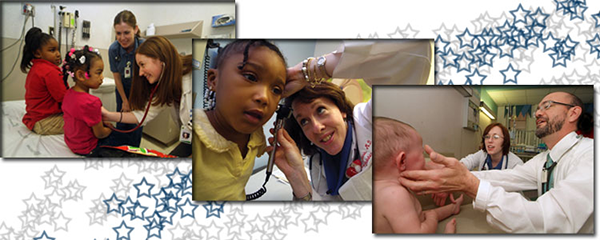 Pediatrics

Welcome to the Department of Pediatrics!
Greetings from the Department of Pediatrics and The Children's Hospital of Georgia!
We are proud to be a part of one of the oldest and largest medical schools in the country and part of Augusta University and the University System of Georgia.
Throughout the years we have developed a reputation for:
Excellence in Quality Patient Care
Excellence in Patient and Family Centered Care
Excellence in Teaching
Our hospital has consistently ranked in the top 10% nationally in measures of quality of care and we were one of the leading hospitals in the development of programs for Patient and Family Centered Care. Our department is frequently honored for outstanding teaching and we pride ourselves for the close mentoring relationship between the faculty, residents and students. This is reflected in the high number of graduating students choosing pediatrics for their career. Another point of pride is our robust research program dedicated to creating new child health knowledge.
While the origins of our Children's Hospital date back to 1912 our current facility is modern and spacious. It was designed with input from some of the children and families we serve…and that input worked! Soon a new Ronald McDonald house will open near the hospital entrance making it easier for families to be near their children.
After work, Augusta offers a wide array of recreational opportunities. It is particularly noted for its variety of artistic offerings and its many outdoor activities. Come and see for yourself. We think you will be pleased.
Charles W. Linder, MD
Chairman, Department of Pediatrics
Pediatrician-in-Chief, Children's Hospital Of Georgia