Division of Infectious Diseases
The Division of Infectious Diseases of the Department of Medicine strives to provide optimal care to adult patients affected by a wide variety of infectious diseases.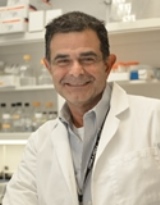 Fellows and faculty are available at all times to assist in the evaluation and management of patients at Augusta University or the Augusta VAMC with known or suspected infectious diseases. Please contact the ID attending or fellow on call through the paging operator, (706) 721-3893.
Infectious Diseases Clinic
The Infectious Diseases Clinic provides outpatient consultation to assist primary care physicians in the diagnosis and management of known or suspected infectious diseases. Patients seeking an appointment should obtain a referral through their primary care physician. To schedule an appointment call the triage center at (706) 721-1450.
The Augusta University Infectious Diseases clinic also provides both primary care and consultation services for patients infected with the HIV virus.
The Travel Clinic at Augusta University is a source for travel related vaccinations and health advice. More information can be found on the Travel Clinic Page.