Zheng Dong, PhD.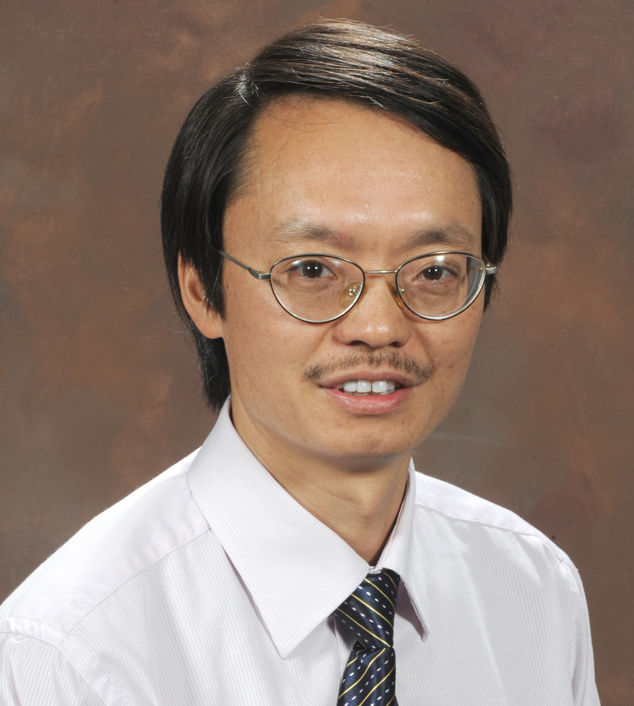 Regents' Professor (part time)
Department of Cellular Biology and Anatomy
Senior Research Career Scientist
Charlie Norwood VA Medical Center


Office: R&E Building, CB1124
Phone: 706-721-2825
Fax: 706-721-6120
E-mail: zdong@gru.edu
---
Research Lab
R&E Building , CB1124
Phone: 706-721-3551, 706-721-4292
Lab Personnel:
Qingqing Wei, PhD, Asst Professor
Man Livingston, PhD, Asst Res Scientist
Shixuan Wang, PhD, Asst Res Scientist
Guie Dong, Research Associate
Zhengwei Ma, PhD, Postdoctoral Fellow
Chunyuan Guo, Graduate Student
Jasmine Fuller, Graduaate Student
Lin Li, MD, PhD, Visiting Researcher
Qiang Lou, PhD, Visiting Researcher
Kun Zhang, PhD, Visiting Researcher
Jielu Hao, Visiting Graduate Student
Shuqin Mei, Visiting Graduate Student
Wei Wang, Visiting Graduate Student
Education
1985-1989 B.Sc. Microbiology, Fudan University, Shanghai, P.R. China
1989-1994 PhD. Physiology, Shanghai Institute of Physiology, Chinese Academy of Sciences
Post-doctoral Training
1994-1998 University of Texas Health Science Center (UTHSC) at San Antonio
Honors and Awards
2000 Lyndon B. Johnson Research Award American Heart Association
2001 Carl W. Gottschalk Scholar Award American Society of Nephrology
2001 Patricia W. Robinson Young Investigator National Kidney Foundation
2004 Career Development Award VISN 7, Department of Veterans Affairs
2005 Distinguished Faculty Award (Basic Science) School of Medicine, MCG
2005 Distinguished Research Award School of Graduate Studies, MCG
2008 Career Scientist Award Department of Veterans Affairs
2011 Regents' Professorship University System of Georgia

Editorial Board Member
JASN - Journal of American Society of Nephrology
Kidney International
American Journal of Physiology-Renal Physiology
Bioinorganic Chemistry and Applications
World Journal of Biological Chemistry
Journal of Geriatric Cardiology
Frontiers in Non-coding RNA
Frontiers in Translational Physiology
Journal of Nephrology and Renal Transplantation
International Journal of Experimental and Clinical Pathology
Open Pathology Journal
Book Editor
1) Essentials of Apoptosis: A Guide for Basic and Clinical Research
Editors: Xiao-Ming Yin and Zheng Dong
1st edition, Humana Press, 259 pages.
ISBN: 978-1-59259-361-3, 2003

2nd edition, Humana Press, 707 pages.
ISBN: 978-1-60327-380-0, 2009
http://www.springer.com/life+sciences/cell+biology/book/978-1-60327-380-0\
2) Cell Death in Biology and Diseases
Series Editor: Xiao-Ming Yin and Zheng Dong
Publisher: Springer
Grant Review Panelist
NIH:
PCD Study Section 2002.2
CSD Study Section 2006.2
Special panel ZRG1 DKUS-G 02, 2009.2
Special panel ZRG1 DKUS-A 58 2009.7
Special panel ZRG1 DKUS-K11 2009.8
Special panel ZRG1 DKUS-G 03, 2009.9
Special panel ZRG1 DKUS-G11, 2010.3
Special panel ZRG1 DKUS-A 05, 2011.8
Special panel ZRG1 OBT-Z 50, 2013.3
Special panel ZDK1 GRB-N z(J6), 2013.9
Botanical Dietary Supplement Research Center (P50), 2014.10
PBKD Study Section 2006.10
PBKD Study Section 2007.6
PBKD Study Section 2008.2
PBKD Study Section 2010.10
PBKD Study Section 2011.2
PBKD Study Section 2011.6
PBKD Study Section: Charter Member 2012-2016
VA:
Career Development Award Program 2006.8
Merit Review Panel for Nephrology 2010.6
Merit Review Panel for Nephrology 2010.12
Merit Review Panel for Nephrology 2011.6
Merit Review Panel for Nephrology 2011.12
Merit Review Panel for Nephrology 2012.6
DoD:
U.S. Army Research Program 2004.6
EPSCoR IDeA Program 2006.7
PRCRP 2011 D-Kidney Cancer panel 2011.11
International grant agencies
China: National Basic Research Program 2010.5
1000 Talents Program for Young Scholars 2012.11
Changjiang Scholar Program 2013.5
Chinese National Science Foundation 2015.5
Germany: German Research Foundation 2013.5
France: French National Research Agency 2015.4
Hong Kong: Research Grant Council (RGC) of Hong Kong 2013.3
Netherland: Dutch Cancer Society 2012.7
Poland: National Science Centre 2013.3
Singapore: Biomedical Research Council Program 2004.2
UK: Cancer Research UK 2011.2
Medical Research Council (MRC) 201.10
Yorkshire Cancer Foundation 2013.8
Kidney Research UK 2013.1, 2014.1
Research Interests
The long-term goal of our research is to delineate the molecular mechanism of cell injury/death, its protection and subsequent regeneration. Our focus has continued to be the response of kidney and cancer cells/tissues to pathological conditions of hypoxia/ischemia, metabolic stress, and DNA damage. Our current work includes the investigation of cell death, cell cycle, DNA damage response, autophagy, and microRNA regulation. We have thus far published over 130 full-length articles in these and related fields. (1) We have delineated the mitochondrial pathway of apoptosis during hypoxic/ischemic kidney cell injury (Oncogene 1998; JBC 1998, 2001, 2003, 2004, 2007; AJP-renal 2004, 2006; JASN 2006; KI 2007). (2) We have revealed a rapid DNA damage response during cisplatin-induced nephrotoxicity and have further determined its pathogenic role (AJP-renal 2004, 2007; Oncogene 2006; KI 2008; JBC 2008, 2011). (3) We have discovered a novel role of Bcl-2 proteins in the regulation of mitochondrial dynamics (PNAS 2007; Cell Cycle 2007; AJP-cell 2011). Our recent work has further demonstrated the first evidence for disruption of mitochondrial dynamics in the pathogenesis of acute kidney injury-AKI (JCI 2009; AJP-renal 2010). (4) We have also demonstrated the first evidence for autophagy and its renoprotective role in AKI (KI 2008, AJP-renal 2010; AJPath 2010; KI 2012). (5) We have recently demonstrated the first evidence for an important role of microRNAs in ischemia- and cisplatin-induced AKI (JASN 2010, Mol Med 2010; AJP-renal 2011). (6) We have shown a role of PKCδ in cisplatin-induced AKI and inhibition of PKCδ may protect kidneys while enhancing cancer therapy (JCI 2011; Oncotarget 2012). (7) Our latest work has discovered Chk1-S as a new regulator of cell cycle and DNA damage response (PNAS, 2012). These studies have contributed to the understanding of the cellular responses to stress.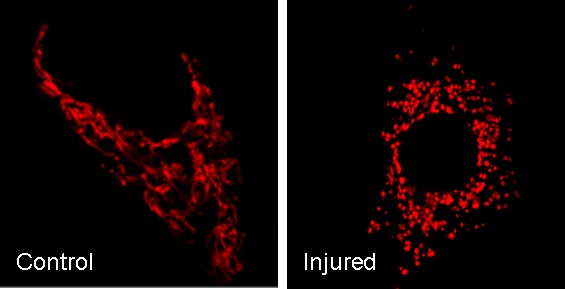 Confocal image of mitochondria. In control cells, mitochondria are elongated and filamentous. After injury, mitochondria are fragmented into short rods or spheres. The morphological change contributes to mitochondrial damage and apoptosis (Brooks et al. PNAS 104: 11649-11654, 2007. JCI 119:1275-85, 2009).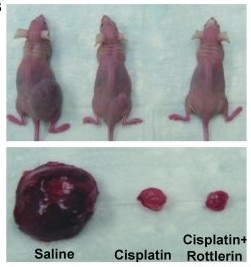 Ovarian cancer xenografts were established in nude mice, which were then treated with cisplatin with or without Rottlerin, a PKCδ inhibitor. In this and other tumor models, Rottlerin and relevant protect protect kidneys and enhance cancer therapy effect during cisplatin treatment. (Pabla et al. JCI 2011).
Approaches:
Gene cloning, transfection, expression, knockout (antisense and RNAi), promoter assay, genotyping, Northern/Southern blot, microRNA analysis, immunoblotting, immunoprecipitation, immunofluorescence, immunohistochemistry and light/fluorescence/confocal microscopy. In vitro and in vivo experimental models, gene knockout mice.
Grant Support:
National Institutes of Health; Department of Veterans Affairs; American Heart Association
Representative Publications (selected from 152):
Brooks C, Wei Q, Feng L, Dong G, Tao Y, Mei L, Xie Z,

Dong Z

. Bak regulates mitochondrial morphology and pathology during apoptosis by interacting with Mitofusins. Proceedings of National Academy of Sciences (USA) 104: 11649-11654, 2007. (Highlighted in Faculty 1000)
Jiang M, Pabla N, Murphy RF, Yang T, Yin XM, Degenhardt K, White E, .

Dong Z

. Nutlin-3 Protects Kidney Cells during Cisplatin Therapy by Suppressing Bax/Bak activation. Journal of Biological Chemistry

282:2636-45, 2007.

Wei Q, Dong G, Franklin J, Dong Z. The pathological role of Bax in cisplatin nephrotoxicity. Kidney International 72:53-62, 2007.
Pabla N, Huang S, Mi QS, Daniel R,

Dong Z

. ATR-Chk2 signaling in p53 activation and DNA damage response during cisplatin-induced apoptosis. Journal of Biological Chemistry 283: 6572 – 6583, 2008.
Jiang M, Wei Q, Smith R, Yin X,

Dong Z.

Autophagy is cytoprotective during cisplatin injury of renal proximal tubular cells. Kidney International74, 631–640, 2008. PMID: 18509315. (with Editorial Commentary).
Brooks C, Wei Q, Cho S,

Dong Z.

Regulation of mitochondrial dynamics in acute kidney injury in cell culture and rodent models. Journal of Clinical Investigation119: 1275-85, 2009.
Jiang M, Liu K, Luo J,

Dong Z.

Autophagy is a renoprotective mechanism during in vitro hypoxia and in vivo ischemia-reperfusion injury. American Journal of Pathology

176:1181-92

, 2010. (Highlighted by Kidney International 77, 563–564).
Wei Q, Bhatt K, He H, Mi Q, Haase VH,

Dong Z

. Targeted deletion of Dicer from proximal tubules protects against ischemic acute kidney injury. Journal of American Society of Nephrology21: 756-761, 2010.
Li X, Pabla N, Wei Q, Dong G, Messing RO, Wang C,

Dong Z

. PKC-δ regulates renal tubular cell apoptosis associated with proteinuria or albuminuria. Journal of American Society of Nephrology21, 1115‑1124, 2010. (with Editorial Commentary).
Brooks C, Cho SG, Wang CY, Yang T,

Dong Z

Fragmented mitochondria are sensitized to Bax insertion and activation during apoptosis.

American Journal of Physiology (Cell) 300:C447-55, 2011. (Highlighted in Faculty 1000)
Pabla N, Ma Z, McIlhatton MA, Fishel R,

Dong Z

.

hMSH2 recruits ATR to DNA damage sites for activation during DNA damage-induced apoptosis.

Journal of Biological Chemistry 286:10411-8.

2011

.
Jiang M, Wei Q, Dong G, Komatsu M,

Su Y

,

Dong Z.

Autophagy in proximal tubules protects against acute kidney injury. Kidney International, 82: 1271-1283, 2012. (Editorial Commentary).
Pabla N, Dong G, Jiang M, Huang S, Kumar MV, Messing R,

Dong Z.

PKCd is a novel regulator of cisplatin nephrotoxicity and effective target for renoprotection during cancer therapy. Journal of Clinical Investigation 121: 2709-2722, 2011. PMCID: PMC3223835
Pabla N, Bhatt K,

Dong Z.

Chk1-S is a splice variant and endogenous inhibitor of Chk1 that regulates cell cycle and DNA damage checkpoints. Proceedings of National Academy of Sciences (USA) 109(1): 197-202, 2012. PMCID: PMC3252905
Patil N, Pabla N, Huang S,

Dong Z.

Nek1 phosphorylates Von Hippel-Lindau tumor suppressor to promote its proteasomal degradation and ciliary destabilization. Cell Cycle12:1, 166-171, 2013.
Wei Q, Dong G, Chen J, Ramesh G,

Dong Z.

Role of Bax and Bak in ischemic acute kidney injury shown by global and proximal tubule-specific knockout mouse models. Kidney International 84(1):138-48, 2013
Invited Reviews and Commentaries
Brooks, Dong Z. Regulation of Mitochondrial Morphological Dynamics during Apoptosis by Bcl-2 family proteins: A Key in Bak? Cell Cycle

6

(

24

):

3043-7

. 2007.
Pabla N, Dong Z. Cisplatin Nephrotoxicity: Mechanisms and Renoprotective Strategies.Kidney International,

73

(

9

):

994-1007

, 2008

.
Jiang M, Dong Z. Regulation and Pathological Role of p53 in Cisplatin Nephrotoxicity. Journal of Pharmacology and Experimental Therapeutics

327

(

2

):

300-7

, 2008.
Periyasamy-Thandavan S, Jiang M, Schoenlein P, Dong Z. Autophagy: molecular machinery, regulation and implications for renal patho-physiology. American Journal of Physiology (renal),297(2):F244-56, 2009.
Bhatt K, Mi Q, Dong Z.

microRNAs in kidneys: biogenesis, regulation and pathophysiological roles

. American Journal of Physiology

(renal)

300(3):F602-10, 2011
Pabla N, Dong Z. Curtailing side effects in chemotherapy: a tale of PKCδ in cisplatin treatment. Oncotarget3(1): 107-111, 2012
Peng J, Dong Z. Role changes of β-catenin in kidney injury and repair (Commentary). Kidney International 82(5):509-11, 2012
Pabla N, Dong Z. Sibling rivalry in checkpoint control of cell cycle and DNA damage response. Cell Cycle 11:10, 1-2; 2012
Huber T, Edelstein CL, Hartleben B, Inoki K, Jiang M, Koya D, Kume S, Lieberthal W, Pallet N, Quiroga A, Ravichandran K, Susztak K, Yoshida, Dong Z. Emerging role of autophagy in kidney function, diseases and aging. Autophagy8:7, 1–23; 2012
Wei Q, Dong Z. Mouse model of ischemic acute kidney injury: tricks and technical notes. American Journal of Physiology (renal) 303(11):F1487-94. 2012

Zhan M, Brooks C, Liu F, Sun L,

Dong Z. Mitochondrial dynamics: regulatory mechanisms and emerging role in renal pathophysiology. Kidney International 83(4):568-81, 2013
Patil M, Pabla N, Dong Z. Checkpoint kinase 1 in DNA damage response and cell cycle regulation. Cell Mol Life Sci. 2013
Wei Q, Mi Q, Dong Z. microRNAs in kidney diseases. IUBMB Life65(7):602-14, 2013
Dong Z.Acetylation of Ets-1 is the key to chromatin remodeling for miR-192 expression. Science Signaling6, pe21, 2013