At the College of Allied Health Sciences at Augusta University, we train and educate today's health care professionals who make up approximately 60 percent of the health care workforce: the therapists, technicians, administrators, managers and assistants. We provide excellence and leadership in applied health sciences to be a nationally and internationally recognized leader in applied health sciences education, research, innovation and service.
Join the next generation of health care professionals at Georgia's only health sciences college at an academic medical center.
You'll find flexible on-campus, online and hybrid programs, small class sizes, hands-on learning, clinical experiences, committed and caring faculty members, and connections that will last a lifetime. Experience Learning Like No Other and become tomorrow's health care professional today at the College of Allied Health Sciences at Augusta University.
Learn more about your next steps
Explore these undergraduate and graduate programs
Graduate Programs
Physician Assistant
Physician Assistants are medically trained and licensed to provide high quality health care, treat illnesses, plan prevention strategies, and write prescriptions. They are recognized as primary care providers and provide health care services as a member of collaborative health care teams. Our affordable PA program maintains high employment rates (approximately 90%) of graduates within the first 6 months after graduation.
Physical Therapy
Physical Therapists are health care professionals who diagnose and manage movement dysfunction and enhance physical and functional abilities. Physical Therapists treat individuals of all ages who have health-related conditions that limit their abilities to move and perform functional activities in their daily lives. Our approach is a combination of first-rate classroom instruction and laboratory practices with extensive clinical training sites throughout Georgia and beyond.
Occupational Therapy
Our OT program is the oldest OT program in Georgia, educating occupational therapy professionals (for nearly 50 years) who go on to serve with distinction in Georgia and across the country. Occupational therapy is a health care profession that promotes engagement in meaningful daily and routine activities. An OT works with individuals and groups to promote health and wellness, prevent illness or injury, create accessible and supportive environments and more. Commonly addressed activities include work or school tasks, driving, leisure, home maintenance and community activities. Our students have opportunities within the curriculum, through student organizations, and volunteerism to strengthen classroom learning through service learning.
Medical Illustration
Our Medical Illustration program is one of only four programs in the country. Medical Illustration is the combination of the visual arts, the health sciences, education and communications. Entry into this unique field requires not only a talent for the graphic arts and visual storytelling but also an affinity for science. Medical illustrators use various media and techniques, from colored pencils to silicone, and from 2D artwork to 3D animation, to solve complex communication and education problems in the life and health sciences. Medical artists work in a variety of places, including hospitals and specialty medical centers, publishing houses, law firms, government agencies, pharmaceutical/biotechnology companies and several others.
PhD Applied Health Sciences
Graduates of this program will be research-focused and clinically oriented, able to work on health care teams in evidence-based practice or as health sciences faculty. The program allows students to structure course work within three concentration areas: rehabilitation science, health care outcomes and diagnostic sciences.
MS-Nutrition/Dietetic Internship
Food is invaluable, serving as an integral part of our growth, development and survival. This program provides knowledge and skills in human nutrition, clinical nutrition/dietetics and research directed capstone project. Students can expect to develop professional competencies within the field of nutrition and dietetics to advance in their career. Dietitians are in your communities, hospitals, food industries, research and other places.
Clinical Laboratory Science
Clinical Laboratory Scientists (CLS), also known as medical laboratory scientists and medical technologists, are credentialed health professionals who perform laboratory tests to diagnose and treat disease and maintain health. They work with sophisticated computerized technology and work in blood banking, chemistry, hematology, immunology, microbiology and more.
Dental Hygiene
Registered Dental Hygienists are credentialed and licensed health professionals who serve integral roles in the delivery of oral health care, by providing preventive, therapeutic and educational dental health services to patients. They focus on preventing and treating dental diseases to improve oral health, in support of the patient's overall health. Some of the clinical duties include: scale and polish teeth, prepare diagnostic casts, expose and process dental x-rays, apply sealants and more.
Health Information Administration
Managing and protecting personal health information has never been more important. Health Information Administration professionals are trusted by all of us to protect, interpret, and transmit the most sensitive data that exists about a person, while making sure it is available where and when it is needed. An HIA professional may be employed as: a data quality manager, patient information coordinator, clinical data specialist, or information security manager
Nuclear Medicine Technology
Nuclear medicine provides information about both the structure and function of virtually every major organ system within the body. Nuclear Medicine Technologists work closely with imaging physicians to diagnose and treat disease. This field combines chemistry, physics, mathematics, computer technology and medicine. Some responsibilities include: analyzing biologic specimens in the laboratory, computer processing and image enhancement, preparing and administering radioactive chemical compounds and providing images, data analysis, and patient information to the physician for diagnostic interpretation.
Radiation Therapy
Radiation therapists are responsible for accurately interpreting, verifying, administering and recording the treatment prescribed by a radiation oncologist. Radiation therapy is the use of high-energy ionizing radiation to treat cancer, relieve pain and other symptoms associated with cancer. Career opportunities are excellent, with jobs available nationwide. They can be employed by hospitals, universities, clinics or work in independent or contract temporary positions.
Respiratory Therapy
Respiratory therapists treat patients of all ages with cardiopulmonary disease and other disorders requiring life-support technologies. They assist physicians by assessing the patient's condition, plans and initiates treatment and provides patient education. Our graduates are highly competitive and sought after by employers. Our students have a 100% job placement upon graduation.
An Experience Like No Other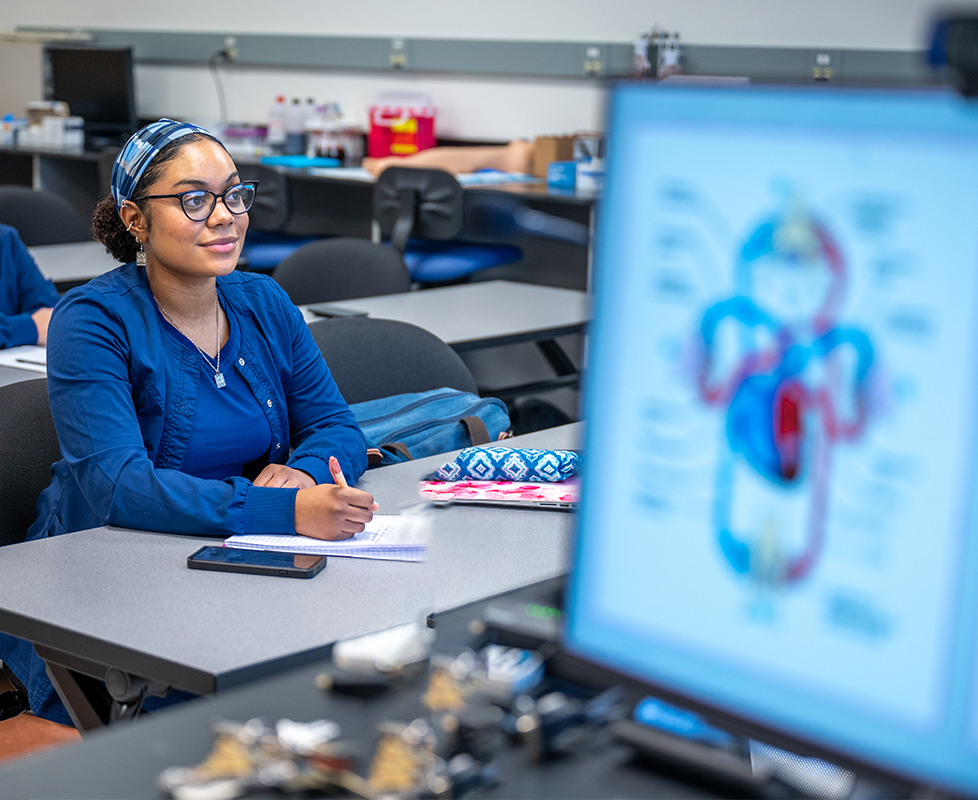 Augusta University provides high-potential students and motivated learners the opportunity to enhance their undergraduate and graduate education with ambitious goals.
Let us know if you're interested in an Experience Like No Other: We'll send you more information! If you have any additional questions about Augusta University or the admission process, our admissions team is here to help.