Dr. Jatinder Bhatia, MBBS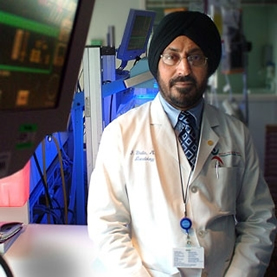 Dr. Jatinder Bhatia is a 1975 graduate of the Armed Forces Medical College of the University of Poona, India. He completed his pediatric residency, including a year as chief resident, at the Augusta University in Augusta followed by a joint fellowship in neonatology and pediatric nutrition at the University of Iowa under the mentorship of Drs. Allen Erenberg and the late Samuel J. Fomon, respectively. He then joined the faculty at the University of Texas Medical Branch in Galveston where he rose through the ranks to associate professor in the Departments of Pediatrics and Preventive Medicine and Community Health. He also held a joint appointment at the university's Graduate School of Biomedical Sciences.
In 1991, Dr. Bhatia returned to Augusta University as a professor of pediatrics. Three years later he was named chief of the Section of Neonatology and program director of the Neonatal-Perinatal Medicine fellowship. He is also a professor in the Georgia Regents University College of Graduate Studies.
Dr. Bhatia is an honorary consultant for Philippine Children's Medical Center in Quezon City. He has been recognized for his academic and clinical work throughout his career with honors such as the Distinguished Faculty Award for Institutional Service at the Augusta University and the Georgia Nutrition Council Award of Excellence.
Dr. Bhatia's areas of research interest include a wide variety of neonatal issues such as neonatal nutrition, total parenteral nutrition, reaction oxygen species, hepatic dysfunction and outcomes research. His research has been supported by the National Institutes of Health, industry and foundations. He is the author of more than 100 articles, abstracts and book chapters and has made presentations of his work nationally and internationally.
He is the immediate past president for the Southern Society of Pediatric Research and serves on the American Academy of Pediatrics Committee on Nutrition. His memberships include the Society for Pediatric Research, the American Pediatric Society, the American Institute of Nutrition, the American Society for Clinical Nutrition, the American Society for Parenteral and Enteral Nutrition, the American Academy of Pediatrics and the American Dietetic Association. He is an active reviewer for numerous journals and serves on the editorial board of Journal of Perinatology, Journal of Maternal-fetal and Neonatology Medicine, eMedicine.